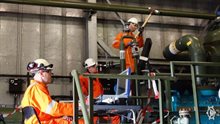 We provide innovative solutions based on expertise in heat and fluid dynamics, mechanical engineering and measurement and control technology. We specialize in gas and fluid flow in pipelines and process equipment, with the objective to maximize production and system efficiency while minimizing mechanical loads, resulting in safe and reliable assets.
In addition to applying our scientific background for numerical modelling, we benefit from extensive laboratory test facilities to analyze and evaluate the fluid flow performance of new concepts and to validate the accuracy of models. Our measurement expertise does not stop at our labs, but is further employed to analyze and troubleshoot the performance of processing systems in the field, including offshore installations.
Our main expertise areas are:
API 618/674/619 pulsation & vibration studies

Field measurements

Root Cause Analyses

Mechanical Response Analyses

Flow forcing analyses (Flow Induced Pulsations, Multiphase flow induced forces, etc.)

FLIP – flow induced pulsations in corrugated flexibles and hoses.